HS Bowling Results: Girls lost to Northmor 1679 to1683. High Game was Gracian Daugherty with a 190. High Series went to Aubrie Smith with a 367. Boys defeated Northmor 1834 to 1778. High Game was Kaleb Edwards with a 213. Kaleb also had a high series of 391.

Due to weather conditions and travel for some schools who will be in higher snow accumulations the Rocket Baker Blast Bowling Tournament will be postponed until Monday, February 21 (Presidents Day).

Rocket Bowling Results at the D2 Preview Tournament Varsity Girls finished 7th with a pin count of 2783. They were just 3 pins away from 6th place! High Game was Aubrie Smith with a 194. Aubrie has high series with a 507. Aubrie placed 6th overall as an individual. Boys Varsity placed 10th overall and achieved their goal for the tournament. They finished with a pin count of 3101. High Game was Jason Callahan with a 199. Jason also has high series with a 523. Jason placed 22nd out of 78 bowlers as an individual.

Congratulations this week to our Rockets! Bowling Results Boys Varsity defeated Fredericktown 1,854 to 1,818. High Game Jason Callahan 181. High series was Jason 352. Girls Varsity beat Fredericktown 1758 to 1667. High Game Aubrie Smith 206. Aubrie has high series with 379. JV boys lost to Fredericktown 828 to 1015. High Game was Donavan Pinnick 149. Donnie also has high series with 246. JH Girls Basketball (7th grade) defeated Temple Christian 28-14. HS Girls Basketball defeated Calvary Christian 42-18.

Due to multiple positive Covid cases we will be postponing the following HS Boys Basketball games. Friday 1/14, Saturday 1/15, Tuesday 1/18 and possibly Friday 1/21. Make up dates will be sent out as those dates are rescheduled.

December RHS Rockets of the Month, Congratulations to all of our amazing leaders!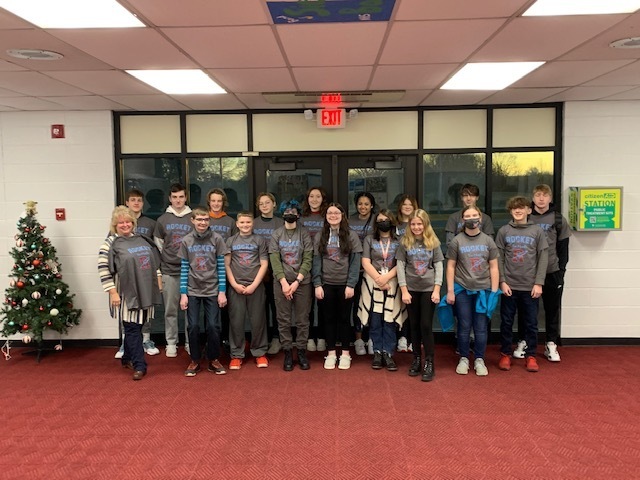 Congratulations to Nya Miller on her first place finish at the Olentangy Orange Girls Wrestling Invitational today. Way to go Nya!!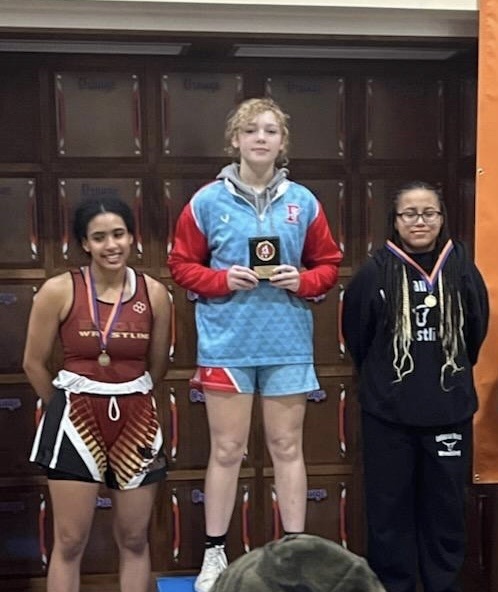 Bus 15 is running approximately 30 minutes late this morning.

Congratulations Rockets!! JH Girls Basketball defeats Crestline 34-31 JH Boys Basketball 7th grade lost to Crestline 18-31 and 8th grade defeated Crestline 26-22

Due to illness tonight's HS Girls Basketball game vs. Bucyrus 1/3/22 is postponed until a later date to be determined.

Ridgedale High School Cheerleading Mini Camp -begins January 27 Come join the fun! Learn the cheers, chants, and dances taught by members of the RHS Cheerleading Team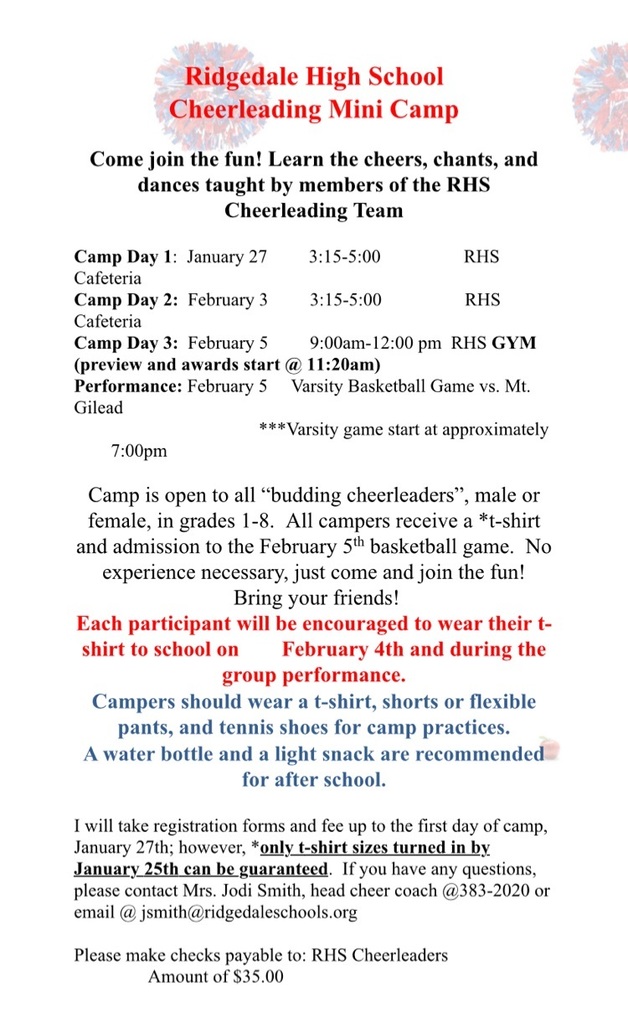 CONGRATULATIONS to Ridge Barkley on his 2nd place finish at the Marion Harding Wrestling Invitational.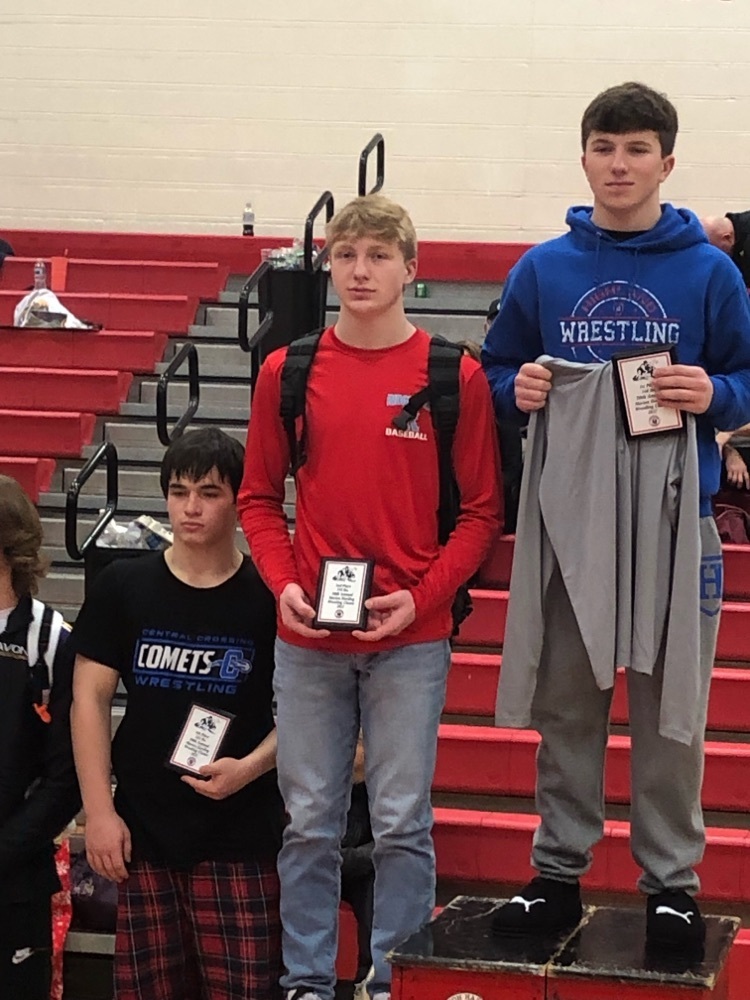 Great Job JH Rocket Basketball!! JH Girls defeated Bucyrus 7th grade won 42-6 8th grade won 36-1 JH Boys defeated Bucyrus 7th grade won 46-11 8th grade won 43-19

Congratulations to Nya Miller taking second place at the Delaware Hayes Girls Wrestling Tournament today!!

Rocket HS Basketball Results: Lady Rockets defeated Delaware Christian 39-19. JV Boys defeated Delaware Christian 32-30. Varsity Boys defeated Delaware Christian 55-36. Great Job Rockets!! ❤️🏀💙

Rocket Bowling at the Redman Classic today. Lady Rockets took 2nd Place Gracian Daughter took 3rd place individual high score. Congratulations!!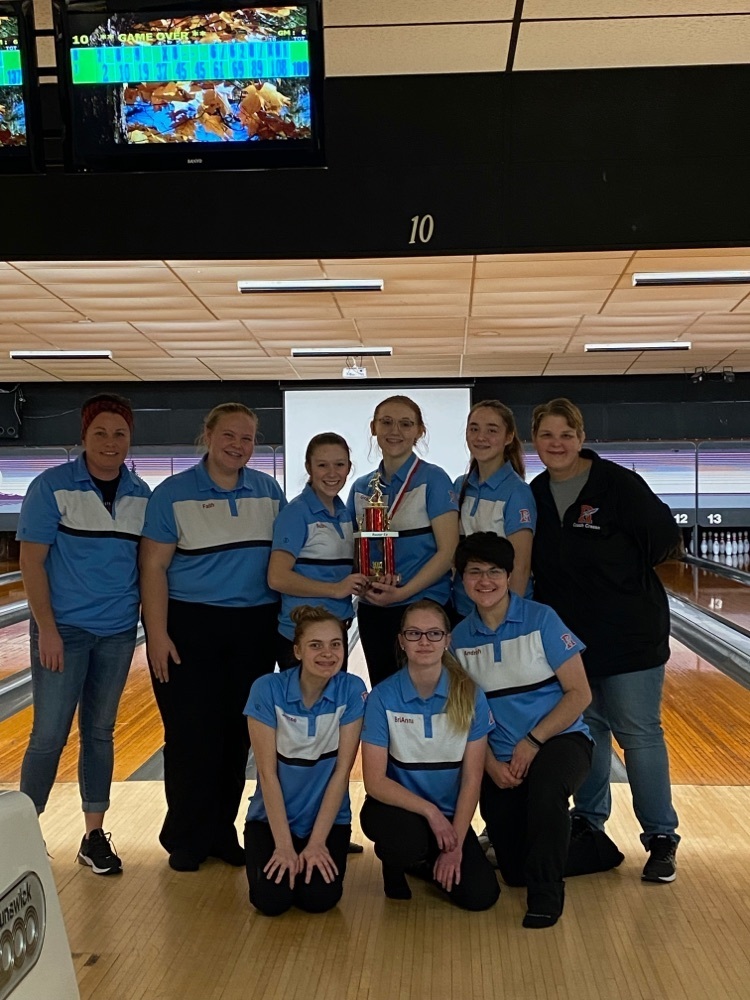 Bowling Results— Boys varsity lost to Crestline 1852 to 1952 High Game was Jason Callahan 185. He also has high Series 359. Girls varsity defeated Crestline 1637 to 1374. High Game tie between Gracian Daugherty and Aubrie Smith with 191. High Series was Gracian 369 HS Girls Basketball Results- Ridgedale 45 Ridgemont 33

Bowling Results - Boys Varsity defeated Centerburg 1715 to 1640. High Game was Jason Callahan with a 237. High Series was also Jason with a 402. Girls Varsity also defeated Centerburg 1688 to 1479. High Game went to Gracian Daugherty with a 213. High Series was also Gracian with a 401.

Rocket JH Boys and Girls are victorious over Ridgemont. 8th grade boys - Ridgedale 30-Ridgemont 29. 7th grade boys - Ridgedale 35-Ridgemont 19. 8th grade girls - Ridgedale 18-Ridgemont 13. 7th grade girls - Ridgedale 43-Ridgemont 6. Congratulations Rockets!!