Thank you to Elgin and Mr. Jason Hix, AD for allowing a special moment to happen tonight for senior Dakota Callahan and his brother, Private Jason Callahan to reunite together on the 50 yard line for the coin toss. We appreciate this memorable moment. Thank you, Jason Callahan, 2021 Ridgedale Graduate, for your service in the United States Army.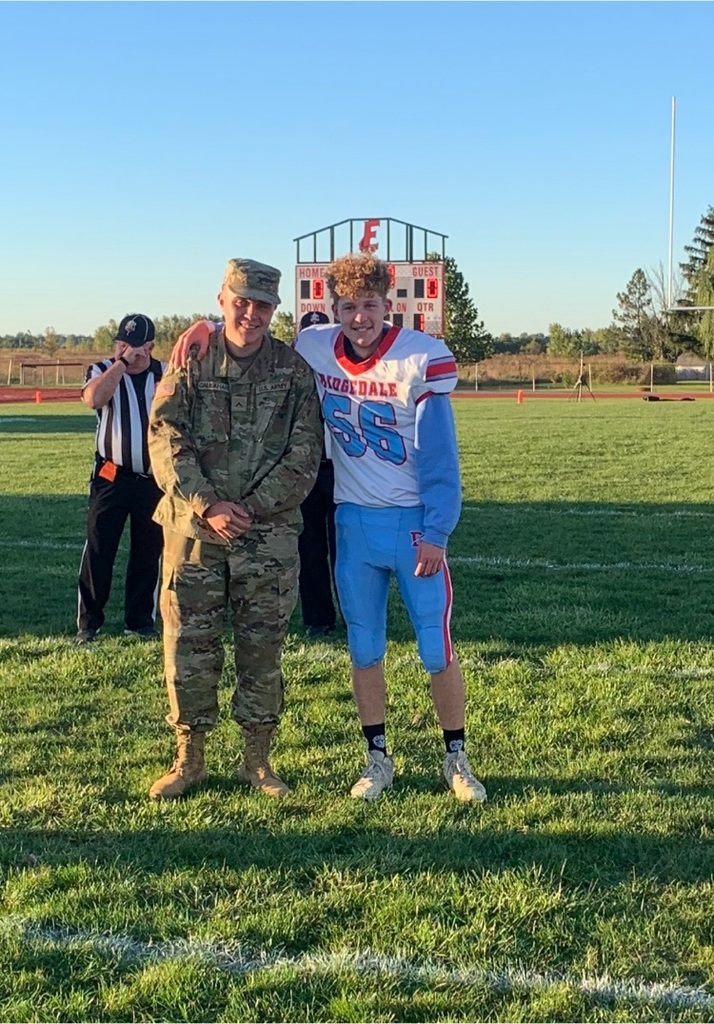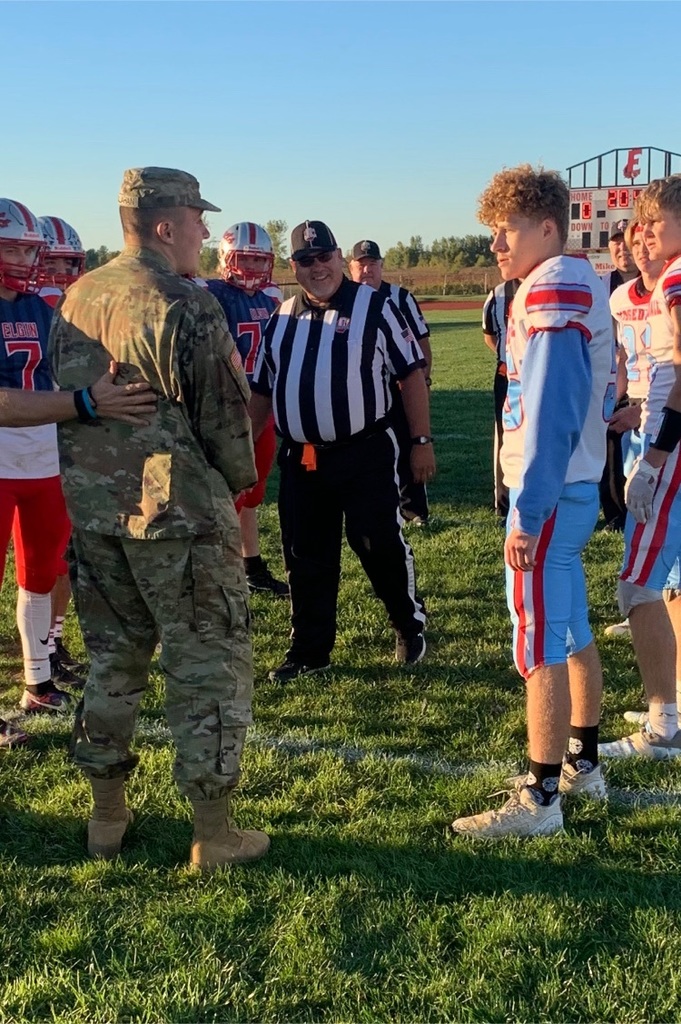 Thursday, Sept. 29 Mum Sale Pick Up is in front of the elementary from 4:00-5:30pm. We need parent volunteers to help unload the truck from 3:00-4:00pm if you would like to help. Thanks for supporting our PTO!

Good morning, Rocket Families! This is a reminder from Ridgedale Local Schools. A musical informational meeting for all students interested in the musical for 2023 and parents will be held this Wednesday, September 28th at 6:45 pm in the elementary music room. Thank you!

Good afternoon, Rocket families. This is Erika Bower, Superintendent of Ridgedale Local Schools, where our mission is to empower students to reach their full potential while focusing on learning, safety, partnerships with our community, and fiscal responsibility. Did you know that you can download an app for our district website? In your app store, search "Ridgedale Local Schools." Just a reminder that you can report safety concerns using the "Student Safety Reporting" button on the website or app. Jr/Sr High School families, soon your students will be utilizing a program called YouScience Discovery. YouScience measures aptitudes (natural abilities most important to career choice) through a series of engaging brain games. Then, the program translates those talents (combined with interests) into real world, high-demand careers. YouScience has been proven to engage students effectively and provide the direction they need to make the most important education and career decisions. We are excited to provide this opportunity to our students! The elementary will be holding Title I meetings on Wednesday, September 28, from 5-5:45pm for K-2 and 5:45-6:30pm for 3-5. Mark your calendar for a special transition night, which will be held on Thursday, September 29, from 5:30-7pm at Tri Rivers Career Center. Additional information can be found on our website or the app by searching Transition Night. Don't forget that Parent-Teacher Conferences are coming up on Monday, October 3, from 11am-7pm, so no school for students on this day. Additional conference times will be held on Wednesday, October 5, from 4-7pm. Interim grades will be available at this time, but you can check your child's grades through PowerSchool at any time. Check the website or app for all up-to-date athletic events! Homecoming is just around the corner with the homecoming game on Friday, October 7, and the dance on Saturday, October 8. Plan ahead for Boo at the Barn on Wednesday, October 26, from 5-7pm. Make it a great week, and Go, Rockets!

RIDGEDALE PTO MUMKIN SALE DELIVERY DAY IS THURSDAY, SEPTEMBER 29TH FROM 4-5:30 IN FRONT OF RIDGEDALE ELEMENTARY. THANK YOU FOR ALL YOUR SUPPORT OF RIDGEDALE PTO.

Rocket Volleyball tonight at Delaware Christian will be JH 7th grade and HS varsity matches ONLY. 7th grade will play at 6:15pm and Varsity will play at 7:30pm Good Luck Rockets!

Good evening, Rocket families. We wanted to thank you for all of your support and patience as we work through the loss of our Mrs. Burkett. We are grateful for the local agencies and surrounding districts who have been providing additional support for our staff and students. The calling hours for Mrs. Burkett will be held this Sunday, September 18, from 2-4pm at Central Baptist Church located at 2816 Marion Waldo Rd with the funeral following. Everyone who knew Mrs. Burkett knows how much she and Mr. Burkett loved our Rocket community. If you attended a sporting event, you were sure to see them taking tickets. Therefore, I would be remiss not to remind everyone about the youth night at our home football game tomorrow night. All youth flag football, youth football, youth cheer and all JH volleyball, football, XC, cheer and band participants should meet at the north goal post by 6:15pm on Friday evening. Announcement of teams will take place at 6:30pm. Ms. Leach will be out at the goal post to direct groups. Thank you for being such a wonderful community, and we look forward to seeing you tomorrow night.

Ridgedale PTO Mumkin Online Sale Ends on Monday, Sept, 12th at 11:59 pm. Make sure to get your online orders in. Thank you for all your support!

JH Volleyball: Tomorrow's game vs. Grant is cancelled due to official shortages. We will be looking to reschedule but this date has not been determined at this time.

Tomorrow nights (9/1) HS Volleyball game will be varsity ONLY due to injury. Game time will be at 6:30pm vs. Hardin Northern.

JH VB will be 8th grade ONLY tonight 8/30 with game time at 6:15pm. Bucyrus does not have enough to play 7th grade for tonight.

ATTENTION: Rocket Fans! On Friday, September 2nd the HS Football Team and Cheerleaders will sponsor a Color Rush at the game vs. Franklin Furnace Green, 7pm. They would like EVERYONE to wear Ridgedale Blue for the game! Let's show our school support by dressing in a BLUE-OUT! GO ROCKETS!

Ridgedale Athletics/Marching Band Open Seasons! Results from last weeks events: HS FB lost to Mt. Gilead - Week 1 HS FB defeated Vanlue 38-36 - Week 2 JH FB lost to Waynesfield - Week 2 HS VB defeated Worthington Christian in 4 sets HS VB lost to Upper Sandusky in 4 sets JH VB 7th Grade lost to Elgin in 2 sets and defeated Crestline in 3 sets JH VB 8th Grade defeated Elgin in 3 sets and defeated Crestline in 2 sets XC competed in the Northmor and Seneca East Invitationals with PRs by all members and Elliot Weston made podium appearances at both Invitationals Golf has played in 1 of 3 NWCC Tournaments. AJ Comer sits 9th going into the 2nd round on Wednesday 8/31 @ Kings Mill 9am. Cheer has been hard at practice and working to gain school spirit. They have performed 2 weeks of HS Football. Marching Band has been busy to start their year, playing at venues prior to school starting and the latest performance at Lawrence Orchards, also 2 weeks of HS Football. Congratulations to all participants and their coaches/directors. Good Luck this week to all! Love our Rockets!

Hello Rocket Families and Fans! I received information this morning from Vanlue's AD that they use the online ticketing system and DO NOT have a cash gate. Here is the information for your ticket purchases! This is for HS Football @ Vanlue tomorrow night, 8/27 @ 7pm.
https://www.vanlueschool.org/AthleticEventsTickets.aspx

SCHEDULE CHANGE HS FOOTBALL Ridgedale will play at Vanlue on Saturday, 8/27 at 7pm instead of Friday 8/26 due to lack of officials. Friday night, 8/26 will be the Festival and Meet the Team from 5-7pm

Meet the Team and the Welcome Back Festival have been postponed until next Saturday, August 27 from 5-7pm. Concerning weather coming toward our area this evening.

Ridgedale Athletic Event Passes are on sale in the HS Office. See Mrs. Swisher for your pass. Family Pass - admits 2 people from the immediate family. $300 Individual Pass - admits 1 person. $150 Senior Citizen Pass - admits 1 senior citizen age 60 or over. If you are a Ridgedale School District resident, age 62 or over please see the administration building secretary for your pass.

Reminder tonight's Rocket JH Football games has been cancelled vs. Hopewell-Louden. Friday Night HS Football game will be at Ridgedale vs. Mt. Gilead 7pm instead of away. Let's Go Rockets! ❤️💙

Elementary class lists have been posted on the front doors. To respect to the privacy of others, please do not post pictures on social media of class lists. Thank you!

Rocket HS Football Scrimmage Friday, August 12 at Grove City Christian, 4750 Hoover Rd. Grove City, OH 43123 7pm start time JH Football Scrimmage tonight vs. Cardington has been cancelled.